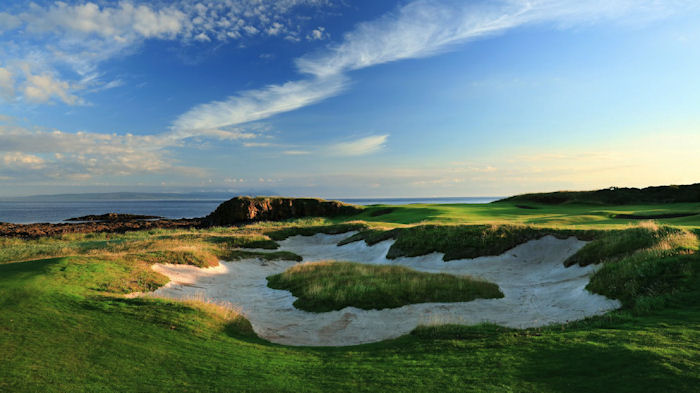 Additional air connections to the Highlands of Scotland have helped tee up record breaking visitor numbers to one of the country's best-known golf courses.
Castle Stuart Golf Links, which has hosted the European Tour's Scottish Open four times in the last seven years, says the number of players visiting the course near Inverness is up 18 per cent this year compared to 2016.
Advance bookings for 2018 are also showing a 26 per cent increase on the same time last year.
Ahead of Scottish Golf Tourism Week, which starts on Monday (23 Oct), it has been revealed that, since last year, visitor numbers to Castle Stuart from Canada have risen by 79 per cent, from Benelux by 60 per cent and South Africa by 47 per cent, while Scandinavian visitors have increased by 45 per cent, US by 17 per cent and Germany, Switzerland, Austria and Lichtenstein all by 14 per cent.
Castle Stuart is one of the 80 golf tourism businesses based in Scotland that will be featured during the Scottish Golf Tourism Week programme.
Tom Lovering, director of Scottish Golf Tourism Week, said: "We welcome these figures that show just how appealing Scotland is to golf lovers from around the world. This backs up what we have found with this year's Scottish Golf Tourism week which is bringing 70 of the world's leading golf tour operators to Scotland next next week. This is a 10 per cent increase on last year of people who spend tens of millions of pounds each year on golf tours. We expect that Scottish Golf Tourism Week will be encouraging thousands of more golfers to come to places like Castle Stuart as well as some of our other hidden gems next year."
The Moray Firth course attributes much of its increased business to recently-introduced air services connecting the Highland capital with Heathrow and Schiphol Airport in Amsterdam.
Last year's addition of daily British Airways flights between Inverness and Heathrow, added to existing flights by other operators to Gatwick and Luton, greatly increased options for business and leisure passengers.
BA has also announced capacity on the route will increase from seven to ten flights a week, beginning in March next year.
KLM's Inverness-Amsterdam service, introduced last year and is now twice daily, has further enhanced the Highland capital's access to international connections.
With Castle Stuart being less than a five-minute drive from Inverness Airport, it is ideal for golfing visitors who wish to play the internationally-renowned course, or make it a starting point for a golf trip around Scotland.
Stuart McColm, Castle Stuart's general manager, said: "There is no doubt the BA and KLM flights, added to what we already had serving Inverness, have opened up huge opportunities for incoming travellers.
"These direct connections to the international hubs at Heathrow and Schiphol, and the networks they serve across the world, make it much easier to come to the Highlands and even use Inverness as a smart way to begin their stay in Scotland.
"Our figures for this year, and for 2018, demonstrate that improved accessibility can have enormous rewards for the Highlands and beyond."
Inverness Airport Manager, Graeme Bell, said "These new visitor figures for Castle Stuart are a tremendous endorsement of the major impact the course has had on the golf world, as well as the positive impact it continues to have on the Highland economy."
"They also further emphasise the support that facilities like Inverness Airport can deliver on behalf of our leading sport and tourism businesses and are another key example of everyone coming together to bring visitors, investment and world-wide 'visibility' to Inverness and the Highlands."
To demonstrate its close proximity to Inverness Airport, Castle Stuart carried out a light-hearted challenge when general manager Stuart McColm attempted to drive the short distance to the clubhouse faster than director of golf Jeremy Matte could play the 9th hole.
The result can be seen on the accompanying video - https://youtu.be/2m6QFwzCxGM
<< Back to SGTW blog home