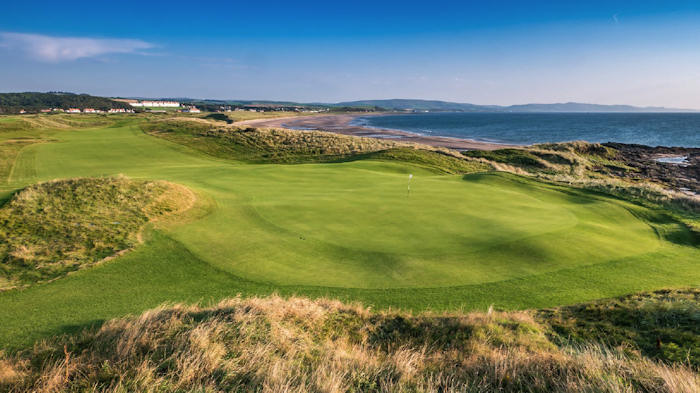 As I write, I'm reflecting on a fantastic week at the 'Home of Golf', where the Alfred Dunhill Links Championship has just taken place. In my job as lead commentator for European Tour Productions' worldwide TV coverage, I travel to dozens of events around the world each year – but there's always something special about covering an event in my native Scotland.
Of course, the beauty of the Alfred Dunhill Links is that it takes in three of our best and most famous courses: the Old Course in St Andrews, Carnoustie's Championship Course and Kingsbarns Golf Links. For golf fans the world over (and I can say that with some confidence knowing that we broadcast to over 70 countries), it is a rare treat to have these marvellous, iconic places beamed directly into their homes.
Wherever I go, I am asked about playing golf in Scotland. What's my favourite course? What's like to stand on the first tee at St Andrews? Are the views as good as the pictures make them look? Is it really as affordable as folk make out? Which of our many 'hidden gems' would I recommend playing? And believe me, it's not just your average golfer asking me those questions; I've even had tour players bleed me dry for information on all that Scotland has to offer!
If we Scots are guilty of anything, it's taking for granted how fortunate we are to live in the cradle of the game. I imagine it's much like living in New York City. When you see the Empire State Building, the Statue of Liberty and Central Park day in and day out, you become conditioned to them. It's not that they lose their appeal. You just get used to them being there.
That's why it's always fantastic to see our courses anew through the eyes of our golfing tourists. For them, visiting Scotland is more than a golf holiday – it's both a pilgrimage and a privilege.
I'm looking forward to being reminded of that at the second annual Scottish Golf Tourism Week later this month. I am delighted to have been asked to host the Scottish Golf Tourism Awards – the glitzy climax to the week – and, in particular, to celebrate the best of golf in the country where the game began. These clubs, hotels, shops and facilities all deserve to be praised to the hilt. It's not really 'the Scottish way' to pat ourselves on the back. It's something we don't do well enough or often enough. But Scottish Golf Tourism Week affords us the perfect opportunity to right that wrong.
It is a magnificent concept, a tremendous way of connecting our golf businesses with the wider world, and it is my absolute pleasure to be involved. It's true what they say: there's no place like home.

By Dougie Donnelly Broadcaster & Commentator
Back to SGTW blog home